燈飾巨人捷克PRECIOSA公司確認參加印尼INDEX展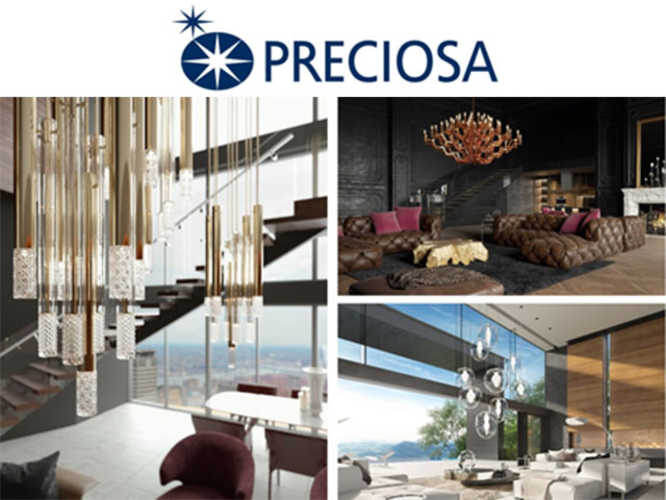 Preciosa Lighting – one of the world's most historic international suppliers of luxury lighting fixtures – is coming to INDEX Indonesia.
Fresh from curating the most talked about lighting display of this year's Salone del Mobile exhibition in Milan, the 300-year-old Czech firm are bringing their spectacular product line to the INDEX brand's debut Jakarta venture in October.
Acclaimed globally as designers of complex lighting solutions for luxury interiors – ranging from high-end private yachts to the world's most exclusive casinos, hotels and palaces – Preciosa takes pride in marrying the traditions of Bohemian crystal and glass with 21
st
century cutting-edge technologies.
The undeniable worth of their lighting lies in the proficiency of its hand crafted design and the age old skill and dexterity of its master glassworkers, whose techniques have been passed down from generation to generation. As one of the few companies in its field which produces its chandeliers entirely in house, Preciosa's conceptual and original approach to exhibitions has led to the company becoming one of the laureates of the prestigious Red Dot Award.
Jan Zastera, South East Asia marketing director at Preciosa, said: "Preciosa has been active in Jakarta and Indonesia for more than 15 years. Participating at INDEX allows us to refresh with some of our existing business partners, and opens the door to fresh opportunities with new potential business contacts who may not be familiar with our brand, products, and services. We have new products we recently released at Euroluce in Milan, and are excited to present these products to South East Asia at INDEX INDONESIA."
The firm has a long association with the INDEX brand, having regularly exhibited at the interior design exhibition's primary show in Dubai. Zastera added: "Building on past success with Preciosa's participation at INDEX Dubai provided us the perfect opportunity to secure a booth at INDEX Indonesia."
INDEX Indonesia event director Melissa O'Gorman spoke of her joy at bringing Preciosa to Jakarta. She said: "I am absolutely thrilled that Preciosa will be exhibiting at our inaugural INDEX Indonesia.
"For more than three centuries they have led the way in regards to incredible lighting design, routinely pushing the boundaries of what is possible and seamlessly integrating modern technologies into expert ancient craftsmanship.
"That dedication to both tradition and innovation is what has established Preciosa as arguably the most influential lighting brand in the world, and it is truly our honour to welcome them to our show."
INDEX Indonesia – organised by dmg events and run in tandem with Mozaik, Jakarta's biggest homeware showcase – is the only exhibition specifically focusing on the interior design, home furnishing, residential, commercial, fit-out, and gift industries in South East Asia. It takes place at the Jakarta Convention Centre, October 5-8.
The combined large-scale exhibition will provide more than 200 interior and fit-out suppliers unique access to a mix of 6,000+ regional and international architects, designers, retailers, wholesalers, product specifiers and procurement specialists responsible for the commercial, retail, residential and hospitality sectors in this rapidly developing market.
The show presents the essential platform for any suppliers and manufacturers looking to captalise on the huge domestic demand from Indonesia and acts as the bridge for any suppliers looking to launch or build their presence and relations in South East Asia.
The middle class population is growing across the region, bringing with it an increased spending power. Indonesia alone has a middle class population of 75 million, larger than the total population of Great Britain, with a combined wealth of $350bn. Its retail industry is experiencing 10% annual growth, with a current value of $326bn.
Joining Preciosa at INDEX include big name firms such as Virtus, Cancelli, Igloo Glass, Basaltina, Ebano, Mercatus, IQ Germany, MCT Home, Omar Crane, Art Com, Goodwood and Eden Pison Hawila.
To register to attend and to find out more, visit
www.index-indonesia.com