ZF opens first plant in Vietnam, adds Vinfast as a new customer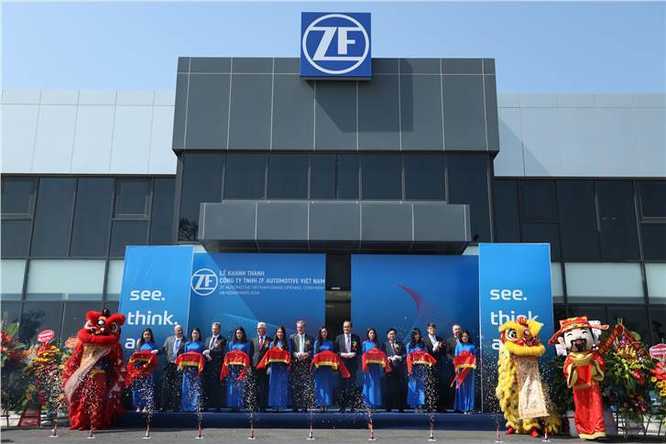 Opening of ZF's Chassis Plant in Hai Phong, Vietnam: Michael Hankel, Member of the ZF Board of Management (3rd from left, back row), James DeLuca, VinGroup Deputy CEO (4th from left, back row), Dr. Peter Holdmann, Head of ZF's Chassis Technology Division (5th from left, back row).
German Tier 1 supplier ZF has opened its first plant in Vietnam, as part of its local-for-local strategy. The company says the new facility is for a Vietnamese customer, Vinfast in Hai Phong, with an investment of around 25 million euros (Rs 197 crore).
The plant is located in Vinfast's Manufacturing automobile and e-scooter plant on the Cat Hai Island off the country's northern shore and will produce chassis modules.
ZF says the Vietnamese car industry is one of the fastest-growing in Southeast Asia, and the Hai Phong facility is its first local step in the market. Vinfast, which is the first Vietnamese automotive manufacturer, was founded in 2017 and relies on ZF as one of its main chassis technology suppliers.

Dr. Peter Holdmann, Head of ZF's Chassis Technology Division said: "With the plant in Hai Phong we add another highly efficient chassis module assembly plant to our global business network. This underlines the market leadership we have reached for chassis just-in-time deliveries globally. The ability to set up assembly plants in very close proximity to our customer's operations at every place on earth is a must for just-in-time deliveries and clear core competence of our business."
The Hai Phong plant exemplifies ZF's local-for-local strategy. The plant is designed and equipped to produce chassis module sets at a rate of 38 jobs per hour. Series production already started in July-end. Michael Hankel, member of the ZF Board of Management speaking at the inauguration ceremony said: "This cooperation offers ZF the unique opportunity to get in on the ground floor of a new market. We are proud to embark on this journey together with Vinfast right here in Hai Phong."
James DeLuca, VinGroup Deputy CEO, responsible for Vinast Global Business Development stated at the ceremony: "Vinfast highly appreciates the fact that ZF – one of the world's leading partners. ZF's newly opened factory is an important link in the Vinfast production value chain, helping to ensure the supply of components and increase the localisation rate for Vinfast products."


--Resources from Autocar Pro News Desk, 11 Nov 2019--